Auto Repair Services
Our technicians specialize in new & used transmission and motor work. Let us rebuild and install your engine or transmission quickly and efficiently.If you need brake repairs, oils changes or light body work we can handle that as well. Look to us for tune ups on all domestic and foreign models.
We Specialize in the following auto services and repair:​
Tune-ups
Mufflers & Exhaust
Light Replacement
Vehicle Fluids
AC Service & Repair
Oil Change & Lube
Electronic Testing
Suspension and Shock Repair
Wheel Rotation
Electrical testing
Coolant Service
Power Steering
Fuel pressure test
Fuel Injection Service
Computer Diagnostics
Belt and Hose Replacement
Engine Repair
Shocks & Struts
Alternators & Starters
Wiper Blades
Charging system test
Transmission Service
Replacement Car Battery
Complete Diagnostic Services
Tire Service
Front End Work
Vehicle Fluids
24-Hour Towing
Full Brake Service
Cooling System Flush
Air Conditioning Service
Vehicle Preventative Maintenance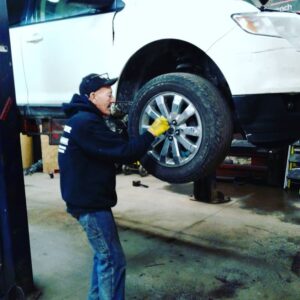 We proudly work on all makes and models. At Chuck's Auto Wrecking & Repair, the customer always comes first, and we constantly strive to exceed your expectations. We are a family business dedicated in servicing/ maintaining your vehicles in the most economic way.
Want to know more about our business and the services we offer? Call us today at (330)745-6632. Or stop in at 338 S. Van Buren Avenue. Barberton, Ohio 44203. We're looking forward to working with you.